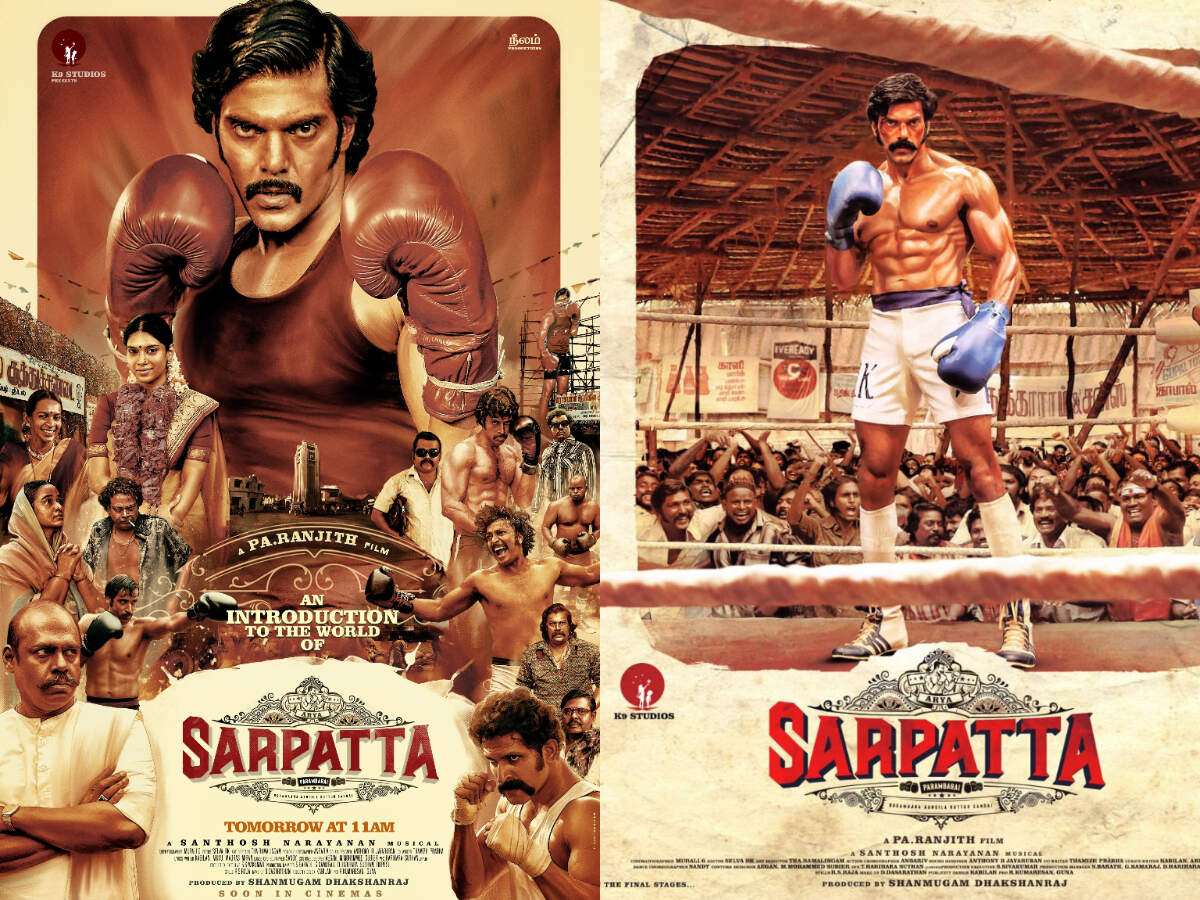 About the movie
Sarpatta Parambarai is an Tamil period sports drama film directed by Pa. Ranjith.The film stars Arya, Dushara Vijayan, Pasupathy, Anupama Kumar and Sanchana Natarajan.The film's technical crew comprises of music director Santhosh Narayanan, cinematographer Murali G. and editor Selva R. K.This movie is streaming on Amazon Prime Video with English subtitles.
Synopsis of the movie
Story revolves around a boxing clash between two clans namely Idiyappa Parambarai and Sarpatta Parambarai, which clan wins in this boxing clash forms the story of this movie.
Analysis of the movie
The first look posters and trailer of this movie created huge curiosity to watch this movie mainly due to Arya and Pasupathi's screen presence and also this is first time Pa Ranjith is collaborating with Arya.
This movie is set in 1980's and it is based on real life incidents and Pa Ranjith has created screenplay based on true incidents using cinematic liberties.
Writing is the hero of this movie as many characters in this movie stand out and will remain in your mind even after watching this movie mainly due to the strong characterization and the way the characters are written and executed is stunning.
Santhosh Narayanan has composed music for this movie, background music is extraordinary, especially the BGM score for boxing scenes is amazing and it elevates the movie to next level.
Murali G has handled cinematography for this movie and visuals are stunning and this movie is visual treat for action movie buffs as each and every frame is captured authentically and they have actually recreated 1980's perfectly in this movie through the color tones and lighting.
This movie has rich production value, the art department team has done a fabulous job in set work and props which makes the movie look as realistic as possible.
Selva R. K has edited this movie, the first half moves at a rapid pace and audience will not realize how fast the first half of the movie took off , though the movie's running time is close to 3 hours, director has done justice to the duration in this movie.
Pa Ranjith is back to direction after a gap of 3 years and he needed a proper comeback and he has utilized this opportunity perfectly with this movie as he has written and executed this movie to near perfection, though the movie follows the usual boxing movie template, it is the way he has crafted the screenplay which makes this movie standout from the other boxing movies.
Arya is terrific performer, however his recent movies did not do well and he was waiting for proper come back and in this movie has has completely transformed for this role physically and he has performed this role brilliantly.
Pasupathy plays the role of boxing coach in this movie and he yet again proves that he can perform any role with utmost perfection.
Kalaiyarasan plays the role of angry boxer, and he is the ideal choice for this role and he has performed this role well.
John Kokken plays the lead antagonist role in this movie and he has given tough fight to Arya with his performance in this movie.
John Vijay plays the role of Daddy, he has nailed this role and he will definitely entertain the audience with his English dialogues in this movie.
Shabeer Kallarakkal as dancing rose will entertain the audience through his unique style of boxing and he has performed this role brilliantly.
Dushara Vijayan plays the female lead role in this movie and she has performed this role well and she shared an amazing chemistry with Arya on screen.
This movie clearly portrays the political scenario in 1980's and boxing culture in its purest form as all the boxers in this movie have undergone intense boxing training and that is evident on screen.
The second half towards the climax portion could have been handled in better way and songs could have been much better.
Verdict- A must watch movie for action movie buffs.
My Rating is 4/5