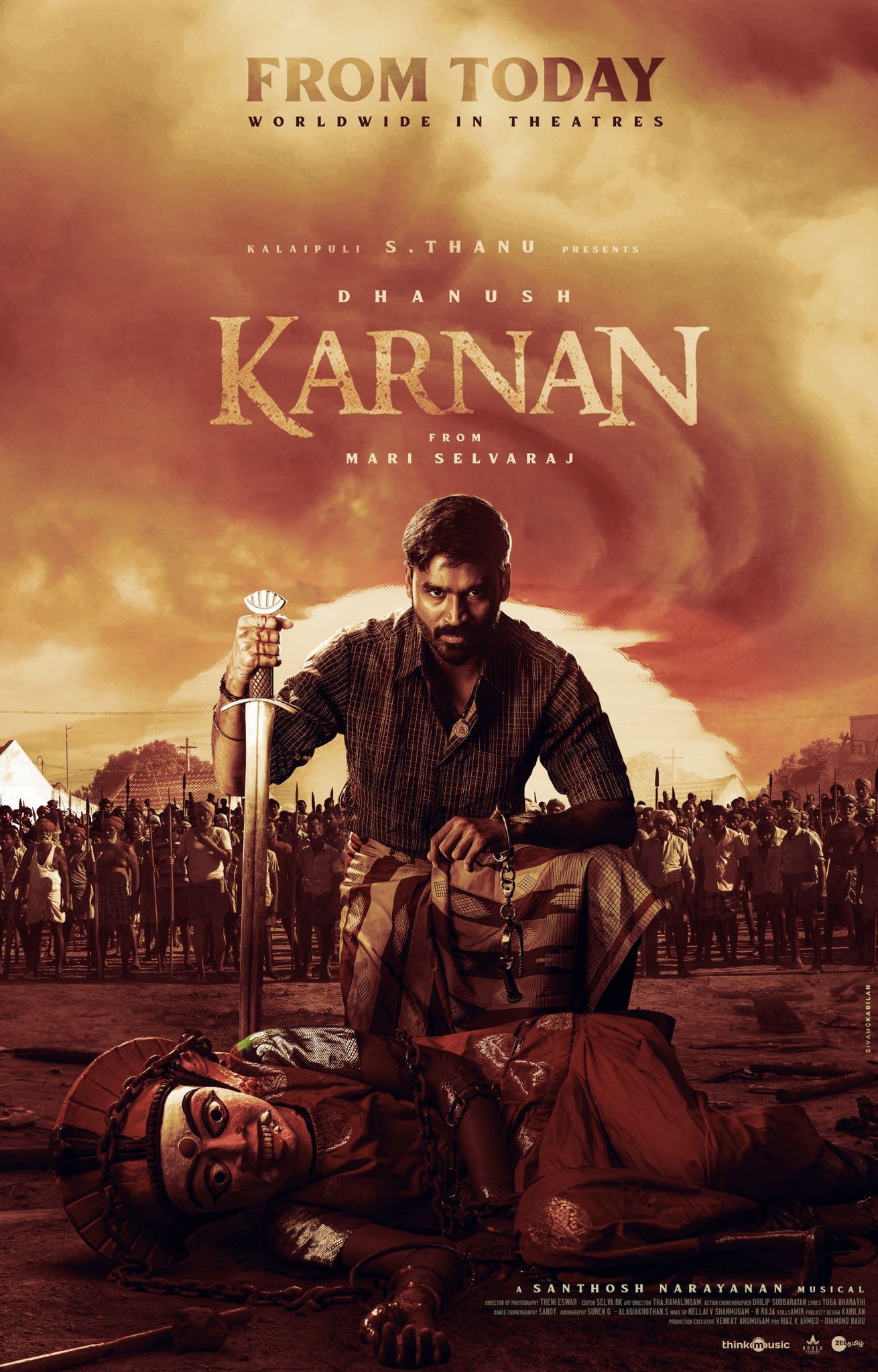 About the movie
Karnan is a 2021 Tamil action drama film directed by Mari Selvaraj.The film stars Dhanush, Lal, Yogi Babu, Natarajan Subramaniam, Rajisha Vijayan, Gouri G. Kishan and Lakshmi Priya Chandramouli. It marks the Tamil debut of Rajisha Vijayan.The film features music composed by Santhosh Narayanan, cinematography handled by Theni Eswar, and editing done by Selva . It was theatrically released on 9 April 2021. This movie will be also streaming on Amazon Prime in May.
Synopsis of the movie
The story revolves around a angry young man who fights for the rights of his people, was he able to save his village or not forms the story of this movie.
Analysis of the movie
Mari Selvaraj is back after a gap of 3 years and this time his collaborating with Dhanush for the first time and there is huge expectation from this combo.
Music plays a crucial role in this movie and songs are already huge hit among the audience and songs have been captured well in the movie via montage shots and background score is terrific in this movie, Santhosh Narayanan has given his best for this movie and this movie will be a milestone is his career.
Theni Eswar has handled cinematography for this movie and visuals in this movie is extraordinary, especially the low angle shots and wide angle shots are brilliant, action scenes have been captured realistically in this movie.
Mari Selvaraj has handled an important social issue in this movie and the way he has conveyed the message using lot of references like donkey and butterfly is remarkable.
The interval block in this movie is terrific and the way that scene builds up and the way the movie moves forward after interval is pure class and mass combined.
This movie has lot of talented actors and Mari Selvaraj has ensured to utilize all the actors appropriately in this movie.
Dhanush yet again proves that he is a brilliant performer and this role is just cake walk for him and he has played this role convincingly, the way he expresses his anger and emotions through body language and dialogues is impressive.
Lal Paul plays a vital role in this movie and he has played this role perfectly and his combination scenes with Dhanush worked out well.
Rajisha Vijayan debuts in Tamil with this movie and she is the perfect choice to play this role and she has acted this role realistically and her chemistry with Dhanush worked out well.
Yogi Babu is mainly used for comedy roles but in this movie he plays a serious character role and he has proved that he can play proper full fledged supporting character roles as well without any hassles.
This movie is close to reality and hence the makers have not tried to make this movie look commercial and there is no commercial elements in this movie and this movie is mainly made for fans who love to watch realistic subject oriented movies.
This movie clearly portrays the struggles faced by oppressed people authentically in this movie.
This movie is not perfect movie as it also has few flaws like running time of the movie could have been trimmed by 10-15 minutes and the screenplay is slow in first half.
The movie has lot of violence and bloodshed, so this movie is not suitable for kids.
Verdict- An action drama movie which is worth watching in theaters!!!
My Rating is 4/5